Rentals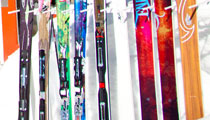 Whether you're a beginner, an expert or somewhere in the middle we've got great rental gear for everybody.
•If you're after skis, snowboards, cross country, snowblades or snowshoes you'll find it all in our Big White Rental Shop which is conveniently situated in the Village Centre Mall Building in the heart of Big White
•Our rental ski fleet is serviced using Big White's Wintersteiger Mercury. Even our regular rental fleet has crystal glide finish – it doesn't get any better!
•Try different skis or snowboards from our fleet (High Performance renters only)
•Avoid the hassle and expense of travelling with your own equipment
•If you're here for a few days and want to try something new you can switch from skiing to snowboarding or cross country or snowshoeing and there's no charge
•New for 13-14 all children under the age of 13 will receive a complimentary helmet when renting a full set of equipment from the rental shop. The Wendy's complimentary helmet service is still available for other children from the Kids' Centre.
•Night skiing runs five nights a week Tuesday through Saturday until mid-March. If we have night skiing you may collect your next day rentals from 6:00pm until 7:30pm. If there is no night skiing your next day rentals may be collected from 2:30pm until 3:30pm. Unfortunately we cannot do next day rentals outside of these times as our priority is assisting guests who are returning equipment.
Located in the Village Centre Mall
Contact:
Phone: 250-491-6114  
Toll Free: 1-866-491-9040  
Email: rentals@bigwhite.com